LAU 2″ Gloss White Lantern Mosaic Porcelain Tile
$6.19/Each
Looking for something classic but not boring?  This pretty little lantern mosaic tile in gloss white is just the thing!  Pair with white grout to give just a touch of elegant texture to your project or use an apposing color grout to highlight the lantern shape.  This is also called an arabesque shape and has been popular in Arabia, North Africa and Spain for centuries so no worries about it going out of style any time soon.
Talk with our local tile experts!
Description
Laufen Roca Lantern Mosaic in Bright Gloss White Porcelain
aka Arabesque Tile # UFCC118-12MT
Samples are available for purchase and are fully refundable within 60 days.
Sold by the each or the box. Price shown is by the each. Square foot price is $7.99, one piece of tile is equal to .775 square feet. 20 sheets/box. In stock.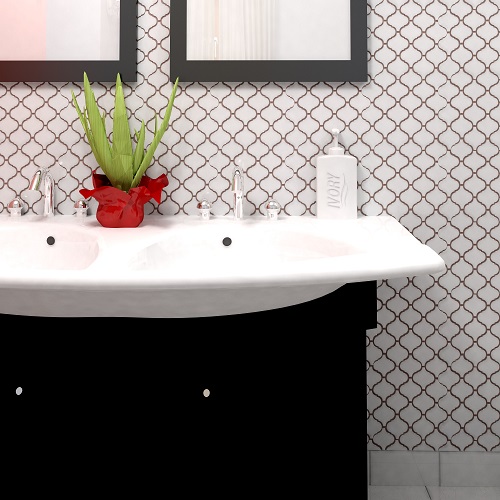 Categories: Backsplashes, Bathroom, Kitchen, Mosaics, Shop Tile, Shop Tile By Look, Shop Tile By Use
Tags: arabesque mosaic, back splash tile, back-splash, bathroom flooring, bathroom tile, designer tile, gloss white tile, kitchen back splash, porcelain, porcelain tile, shabby chic tile, shower floor tile, white backsplash, white mosaic tile