Layton, Your Drive Is Over: New Location of Tile For Less is Now Open!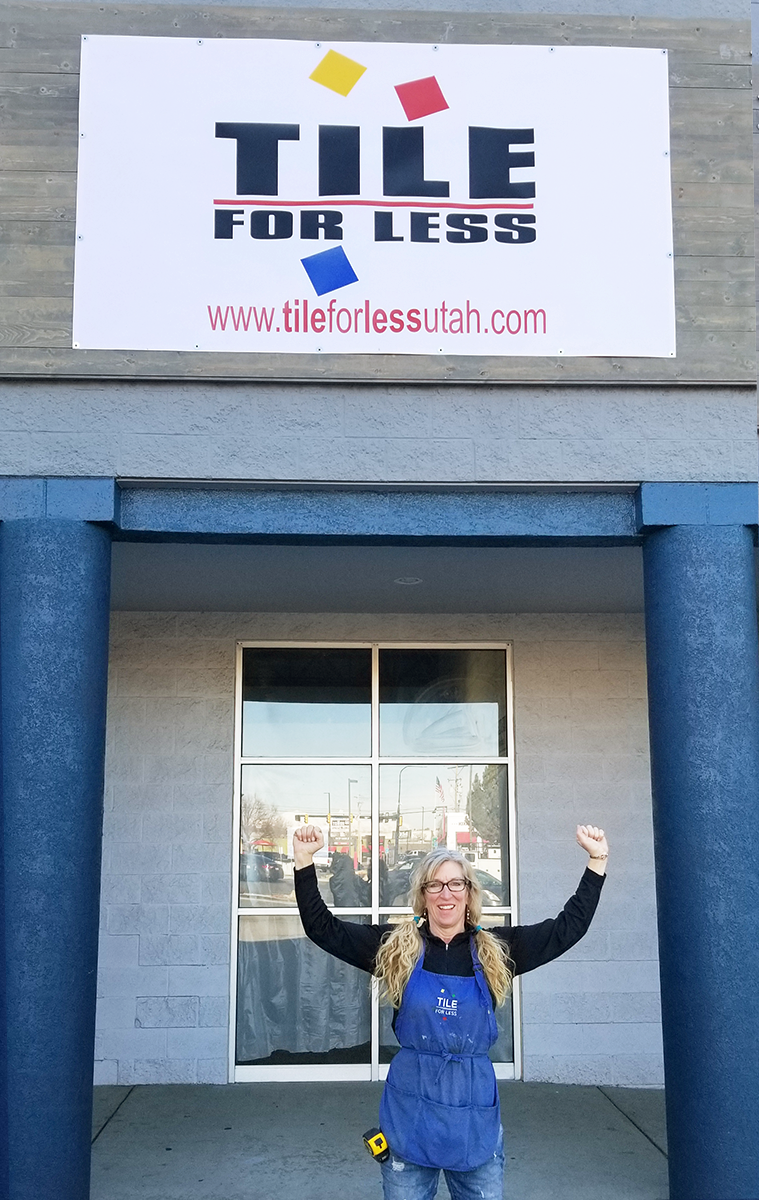 Hello from Matt and Michele, local owners of Tile For Less. We have been here in Utah since 1996, helping homeowners like yourselves navigate their home improvement projects. Over the past 20 years, we have helped you save money by coaching home owners on everything from cutting your glass tile, to waterproofing a shower pan. We have fielded thousands of Saturday morning questions on how to mix mortar, what color grout will be best, how to cut a hole in tile, and my favorite "why do I have to have a grout joint?." Now it's your turn!
Home owners and contractors alike now have a place to shop for all the latest on-trend tile and top quality click flooring right here in Layton. Your drive is over! Come see why so many people have come to rely on our staff's expert tile installation experience to guide them through all their tile needs. From classic white subway tile to funky Spanish fashion tiles and VOC free click flooring, we have you covered.
That's why we're excited to announce the opening of a new Tile For Less location in Layton, Utah. The new store is located at 717 North Main Street in Layton. Come celebrate with us and check out your new store. During the whole month of January 2020, we are hosting all kinds of informative DIY demos, product giveaways, and Deals of the Week so good you won't be able to wait another second for that new kitchen or bath. Come and let us show you what's possible.
Here are the free "Do-it-Yourself" demonstrations we're offering at the Layton store during January:
January 11th – "Confessions of a Grout Hater: Learn how to install stain free grout" – click here to register!
January 18th – "Shower Pan Victory! How to install a goof-proof shower pan" – click here to register!
January 25th – "Click Flooring Craze: How to choose and install a safe Luxury Vinyl product" – click here to register!
These are hands-on demonstrations, so you'll get a chance to try your hand at it with the direction of the experts at Tile For Less. To reserve your place in the demo, be sure to register early by clicking the links above. The first 25 people who register for each demo will receive a free gift*.
Beginning in January, Tile For Less in Layton will also have special Deals of the Week with huge savings.  Click here to check out the current deal of the week.
On January 25th, at our official grand opening event, we'll be giving away great prizes, including 300 sq. ft. of Click Flooring! Click here to register to win, no purchase necessary.
The address and phone number for the Layton Tile For Less location is:
717 North Main Street
Layton UT, 84041
(801) 622-0833
* Valid for 90 days. Must be present at the demo to claim free gift.
https://tileforlessutah.com/wp-content/uploads/2019/12/Tile-For-Less-GO2.png
630
1200
Tile For Less - Layton
/wp-content/uploads/2019/04/tfl-logo@2x.png
Tile For Less - Layton
2019-12-23 21:08:06
2019-12-26 23:26:41
Layton, Your Drive Is Over: New Location of Tile For Less is Now Open!